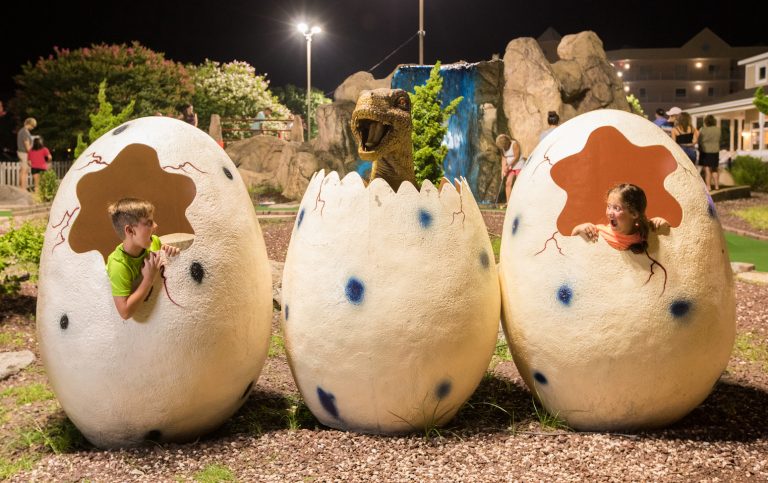 A FUN FAMILY ACTIVITY WHILE ON VACATION; ADVENTURE AND DISCOVERY AT ITS BEST!
Located at Nick's Mini Golf - 125th Street
Offer: Free Pay Dirt Mining Gem Bag With The Purchase Of Any Other Mining Bag
How Does Gem Mining Work?
A gem mining sluice is a trough where water circulates over and over again by means of a pump. The kids purchase a bag of mining rough enriched with gems and fossils. They then take their bag to the sluice and sift through it eagerly awaiting what gems and fossils they may find. Every kid gets a pan and then the water washes the sand away and what is left is all the pretty gems and fossils that they get to keep. Each "panner" also receives an identification brochure and a baggie to put their newfound collection so they can take it home and identify their new gems.
This fun activity combines young people's sense of adventure and discovery with their continuing thirst for knowledge. Kids love identifying what they find. The best part is they keep everything they reveal. Every single bag is different and has multiple different gems & fossils, so it will be an activity they'll want to repeat.
Mine for gems, rubies, fossils, and more at the Dino Mining Company

Spring 2023 Hours:
Monday - Thursday: Closed

Friday: 11:00 am - 9:00 pm
125th Dino Golf and Mining Company

Saturday: 10:00 am - 9:00 pm
125th Dino Golf and Mining Company

Sunday: 10:00 am - 6:00 pm
125th Dino Golf and Mining Company

*WEATHER PERMITTING*
Updated 4/20/2023